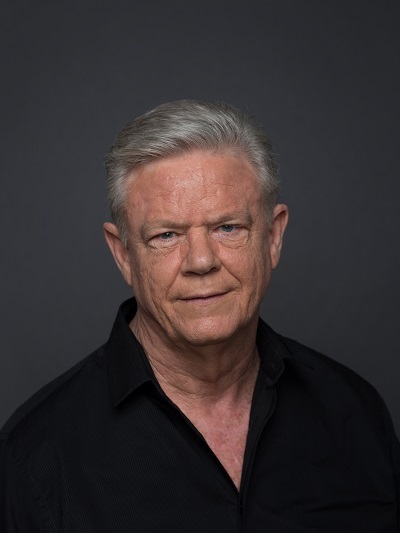 I was born with the name Kelvin Sebastian in the beautiful town of Cape Girardeau Mo, in 1953. I grew up in a Christian family, and attended the Lutheran Church in Tilsit, a small town about 9 miles from Cape. I have one brother named Keith. Our great-grandfather actually helped build the church. I was instilled with a love for the great stories of God's deeds at an early age. My mother's Pentecostal background brought another dynamic to my over-all faith.
I got the music bug from my mom, and started playing trumpet at age 10. I eventually went to Southeast Mo. State University, and earned a bachelor's degree in music education. Between the music department, and prayer meetings, I met my future wife Elisheva (formerly Nancy Thomson). We were married in 1973. (Our marriage lasted a little over 36 years, but unfortunately ended in divorce by mutal agreement.) In 1977, we went to Israel to volunteer on a kibbutz for a year. I stayed for 33 years, and Elisheva is still there. We received permanent residence in 1985, and subsequently changed our names. This is very common in Israel, and most people take a new name when getting permanent residence or citizenship. Yuval (Hebrew) means the same thing as Kelvin (Gaelic): a deep under-water stream. Shomron (Hebrew) is Samaria in English. Sebastia was the capital city of Samaria during the New Testament times.
During my 33 years in Israel, I spent 20 of them teaching music and band directing, 5 producing CDs, and 7 as the Bureau Chief of the High Adventure Global Radio Network. I did some house renovations and carpentry work along the way to help make ends meet. Elisheva was busy composing over 200 songs, and making over 12 recordings, as well as raising up many praise and worship leaders.
We have 3 adopted children. Yoel (born in 1978 and from the Ukraine) now lives in Germany very close to me, Avigail (born in 1987 in Romania) now lives in the Philipines, and Yosi (born in 1990 in Romania) now lives in Mmontana, USA.
The 3 of them served in The Israel Defense Forces and are at least bi-lingual.
During the years, I was blessed to be a part of many wonderful aspects of God's plan for His chosen people and land. I also did a few stupid things, and made many mistakes.
Having said that, I'll share with you 2 of my favorite passages:
PRO 30:2-4, "Surely I am more stupid than any man, And I do not have the understanding of a man. Neither have I learned wisdom, Nor do I have the knowledge of the Holy One. Who has ascended into heaven and descended? Who has gathered the wind in His fists? Who has wrapped the waters in His garment? Who has established all the ends of the earth? What is His name or His son's name? Surely you know!"
EPH 3:8-10, "To me, the very least of all saints, this grace was given, to preach to the Gentiles the unfathomable riches of Christ, and to bring to light what is the administration of the mystery which for ages has been hidden in God, who created all things; in order that the manifold wisdom of God might now be made known through the church to the rulers and the authorities in the heavenly places."
In 2010 I remarried to Regina Külling in Switzerland. We live in a small village near the German border in Canton Schaffhausen. I studied in Zurich for my CELTA (Certificate for English Language Teaching for Adults) from a branch of Cambridge University. I started my own small language school, teaching English and Hebrew. I also speak passable German, but not nearly well enough to teach it. In the mean time I got an MA in Journalism and a PHD in Education, which resulted in my first published book: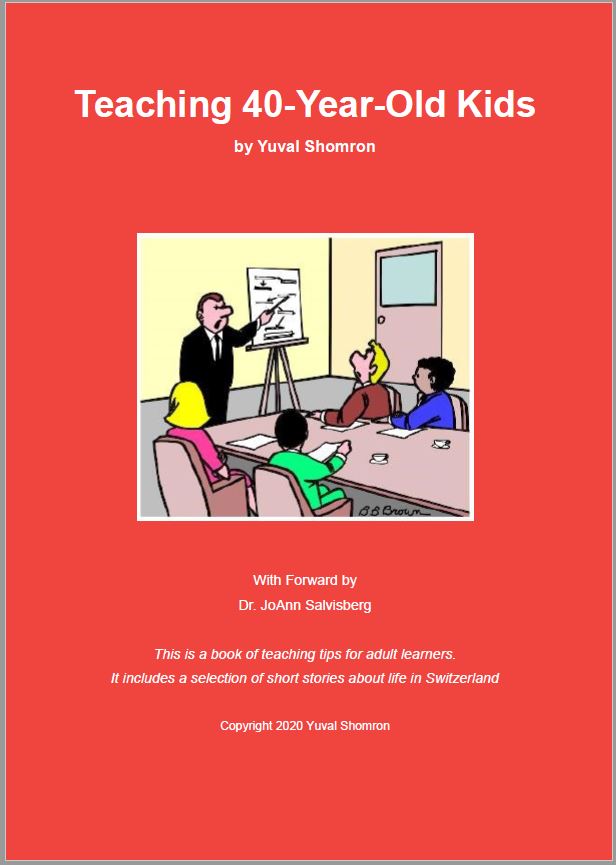 I am currently on the Executive Committee of the English Teachers Association of Switzerland.
Regina and I enjoy gardening in our rural setting, and do a lot of entertaining. She is an executive assistant to big wigs in the Swiss financial center for a large American company.
I decided to write this very brief bio because I have been very blessed. I have traveled to 32 states, and 22 countries. I have met thousands of wonderful people. Yet I know that without our wonderful Savior Yeshua (Hebrew for Jesus), I would neither be anybody, deserve anything, or have gone anywhere!
May God bless each of you on your own journey,
Yuval


HOME . BIO . HEBREW HIGHLIGHTS .
PROOFS OF PURCHASE . CONTACT ME . SHEET MUSIC