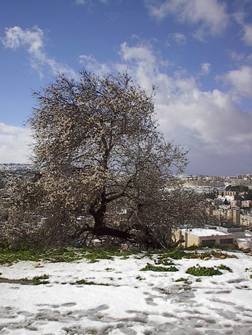 Welcome to the links page.
I only put this photo here because I wanted to include it somewhere
on this site. It is an almond tree near our home in Jerusalem in the snow.
Following are some the organizations and ministries which
I think you might be interested in if you love Israel:
Be'ad Chaim (Pro Life) is a registered Israeli non-profit
organization dedicated to the protection of mothers and unborn children.
(Registered in 1989) We are a national organization with offices and Hotlines
throughout Israel. All women are eligible for our assistance, regardless of
nationality or religious beliefs.

Christian Friends of Israel (CFI) is a ministry that exists to:
Y Comfort and support the People of Israel through practical means
Y Inform Christians around the world of God's plan for Israel
and the Church's responsibility towards the Jewish people
Y Make the Jewish people aware of our solidarity with them

The International Christian Embassy Jerusalem was founded in 1980 as an evangelical Christian response to the need to comfort Zion according to the command of scripture found in Isaiah 40:1-2: "Comfort, comfort my people, says your God. Speak tenderly to Jerusalem...

Your ultimate online source for Israeli products.
HOME . BIO . FAMILY PICS . HEBREW HIGHLIGHTS . LINKS
PROOFS OF PURCHASE . CONTACT ME . FAQs . SHEET MUSIC